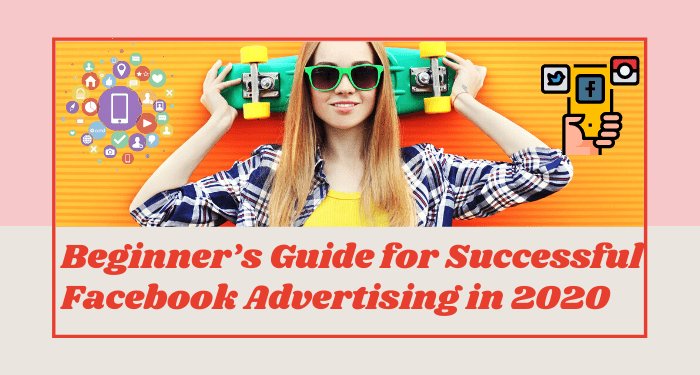 Beginner's Guide for Successful Facebook Advertising in 2020
Wondering how to run Facebook ads that can drive more sales? Luckily, this is the right post for you.
In this time of digitalization, it has become necessarily important for every business to merchandise its products on social platforms. As social media marketing can spread your message on a massive scale instantly. Undoubtedly, Facebook is the leader in the social media world, and its importance in setting up a digital marketing campaign is second to none.
With more than 2.6 Billion users, Facebook has become an integral part of our lives. Certainly, investing in a Facebook advertisement can assist in reaping your intended results.
If you haven't any previous experience, then you should read this before running ads because even professionals can overlook the impactful aspects and can come across the common pitfalls.
There are tons of articles on the Internet that describe its details. But for beginners, it can be complicated at first. Therefore, we've created this simplest guide to educate beginners about the fundamentals of running Facebook ads.
Reasons why to Advertise on Facebook
There are plenty of obvious reasons why most marketers prefer to invest in Facebook Advertising. A few of them are described below:
Highly Effective
Several surveys have proved that Facebook is the best platform for promoting brands. It is convenient to reach out to people of every niche and target them. Facebook ads can be fully exploited, and they will provide the full value for your money.
Instant Results
No one wants to wait longer for results to happen. The same is the case with advertising. Sometimes, you've to promote any upcoming event, so you need to get instant results. Facebook ads have the required potential to do so. With time, Facebook has made its advertising more and more effective. Due to this reason, they generate huge ad revenue each year.
Easy Way to Reach out to Your Target Segment
No matter what kind of your potential audience is, FB ads can make it sure for you. A wide spectrum of demographics on Facebook can work for you.
Multiple Customizable Options
Instagram allows you to use multiple customize options that will make your ad even more beneficial.
Also Read:
6 Simplest Ways to Optimize Your Instagram Profile for Business
Types of Facebook Advertisement
Facebook offers a wide variety of Ads format. But Images and video ads are the most common of all. Most of the lower-written ads format is seen in your newsfeed while others are displayed on messenger and stories.
Image Ads
Video Ads
Video Polls Ads
Carousel Ads
Slideshow Ads
Collection Ads
Instant Experience Ads
Lead Ads
Dynamic Ads
Messenger Ads
Stories Ads
How to Advertise on Facebook – Step-by-Step Guide
Having a business account is necessary to get access to the Facebook Ads manager. Suppose you already have a business page then head straight to the Business manager. Otherwise, firstly you've to create a business page first.
Now, follow these simple steps in order.
Log in to Facebook ads manager and tap on creating a new campaign to get started.
Choose the objective of your ads relevant to your goal from the list of 11 marketing objectives.
Scroll down and give a name to your ad campaign.
Set up your ads account, if you're already having this, then simply the button located there. Give the details wisely, as you've to set up another account if you want to change the details.
Choose your targeted audience in terms of age, age, and gender. On the right side, an audience size indicator will be displayed that describes your ad potential.
Now, choose the ad placement. You can do it manually by allowing Facebook to place it at a different location itself. Later on, when you become able to do this, you can place ads as per your will.
Select your budget and schedule. You can customize it in such a way that it appears at a particular time, daily, or lifetime.
Now create the ad by choosing the format and media components of it. Ad format varies according to the objective you've chosen.
5 Popular Strategies for Facebook Advertising
Facebook ads can be made more powerful if these strategies are part of your strategy.
Spend at least $5 per Ad
Choose an image that can stand out and represent your brand on the social platform. Allocating too small a budget is useless as it results in nothing impressive.
Image tips
The most impactful part of your ad is its image. You can write enticing lines to stimulate the audience to engage with your message.
Rightly Target Your Audience
You need to select the right audience that belongs to your target segment. Instead of targeting a huge audience, divide them into groups, and then target them separately.
Include the Social Proof
Add the stats that can build a credible impression of your brand in the viewer's mind.
Add Call-to-Actions
Through call-to-actions stickers or lines, catch the attention of more eyeballs.
You may also like to Read:
Step-by-Step Guide of Performing Marketing Competitor Analysis